¿How was Tomorrowland Around the World lived?
---
Faced with this Coronavirus (COVID-19) situation, the large events and music companies cannot stop, they are increasingly coming together with more strength and reinventing themselves to achieve incredible shows, after this pandemic has kept people away from massive events, unique experiences arrive at home for people who do not stop wanting music and living it.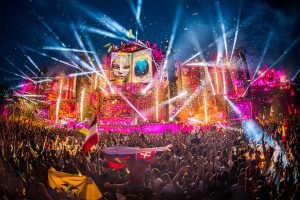 Tomorrowland Around The World has been the most recognized electronic music festival in the world and now in its virtual world it did not lose its grandeur, everything was created in its three-dimensional world called «Papilionem island», every detail of this place designed with imagination and a lot of creativity to live a unique experience, the plants, different lights, the assistants and fireworks were very well achieved. With presentations by more than 60 artists, these shows were lived in 8 spectacular settings, very original with their digital design.
The star in charge of opening the event was Katy Perry. At the expected concert, the singer, who was pregnant during her presentation, released songs from Smile, her fifth album that will be released on August 14. The following presentations were by world-class artists such as David Guetta, Steve Aoki, Dimitri Vegas & Like Mike, Armin van Buuren, Tiësto, Martin Garrix, Don Diablo, etc … With their mixes they participated in this innovative digital edition.
This festival was broadcast live on Saturday July 25 and Sunday July 26, it was lived like a festival in real life, where the emotions of all attendees were heightened and they had experiences out of reality.
---